Few months ago, Hotel Santa Teresa entered the world famous French group Accor under MGallery portfolio, upscale boutique-hotel brand. It doesn't make much difference as its 44 rooms, garden pool and trendy bar dos Descasados (literally, bar of divorced people) were already a cosmopolitan showcase of tropical flair and wood furniture tempo by renowned designer Sergio Rodrigues.
Rua Almirante Alexandrino, 660 (Santa Teresa). Tel. +55 21 3380 0200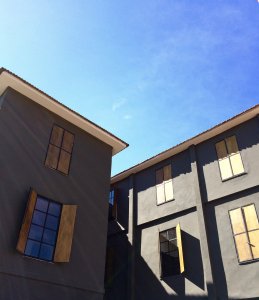 Further down at back street of the hotel, the manager keeps an eye on the upcoming Mama Shelter (since Accor eventually entered Mama's board). Two separated mansions and 55 rooms are standing both sides of the road. Let's find again the Mama's successful usual gimmicks (although Philippe Starck has now stepped out of the boat) : a huge turn-around bar, here in a mix and match of "grecques" and azulejos, sketches and tags on ceilings… At ground floor of Bela Vista aisle, rooms have their own terrace. Opposite to the lobby and courtyard, the restaurant is a tribute to the Sambodromo and its overexcited scenery : a high stepped platform (or tribune) where wannabes and hipsters will go crazy, fore sure. Officialy opens in September, but the Olympics is the right time to check if the software is on duty.
About 100€ for a standard double room, breakfast in extra.
Rua Paschoal Carlos Magno, 5 (Santa Teresa) mamashelter.com/fr/rio