"Si tu vas à Rio n'oublies pas de monter là-haut" was singing Dario Moreno in the French 50's. The quaint neighborhood Santa Teresa (Cariocas say Santa) is always a good option for hanging around. Who can resist its romantic cobbled streets, old-school tramway like in Lisboa, shabby-chic façades and that breeze of freedom blowing upon the hill ?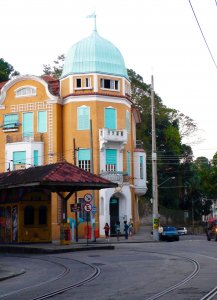 Start at the top, at Largo do Curvelo, by visiting a modernist gem, the villa designed by architect Alves de Souza. Honestly, I'd rather come here for the splendid architecture of this Museu da Chácara do Céu  than for the collections of Castro Mayor, the king of ananas in the early XXth century. Rua Murtinho Nobre, 93. http://museuscastromaya.com.br/
And besides, the lovely Parque das Ruinas is just off the villa's garden. Here is the best panoramic view on the bay and Centro.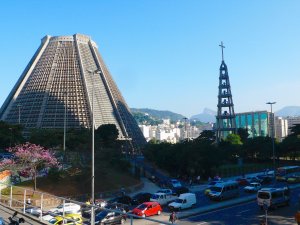 See the pyramidal Catedral Metropolitana, work of architect Edgar Fonceca built in 1979 and that can host up to 20000 people. Then, stroll to the Largo named after Joaquim Fonseca Guimarães (a local resident whose house became Hotel Santa Teresa, just up the road, read below) and that is now the epicenter of bohemian Santa. This is a key cable-car stop on the bonde (say "bondjee" as any word finishing by "de") and a number of restaurants, handicrafts and vintage shops lie within a short distance.
Bar do Mineiro, an authentic boteco where locals drag on at lunch in front of their week-end's traditional feijoada. Rua Paschoal Carlos Magna, 99. Tel. +55 21-2221 9227 (Santa Teresa).
Cafecito for a cheap coffee break, a pastry or a pizza, climbing the stiff stairs to upper floors. Rua Paschoal Carlos Magna, 121. Tel. +55 21-3497 3579 (Santa Teresa).
Café do Alto for a Nordeste tasty escapade in a color-block decor. Rua Paschoal Carlos Magna, 143. Tel. +55 21-2507 3172 (Santa Teresa)
Aprazível of course, I double recommend one of the top 5 restaurants in town, no doubt the best of the hood, for a gastronomic thrill among the mango trees, and facing the Guanabara bay (average R$ 180 à la carte). Rua Aprazivel, 62. Tel. +55 21 2508-9174 (Santa Teresa).
And by the way, I'm sure you'll call for a drink, don't you ? Believe it or not, the Magnifica is the only one cachaça (traditionally made out sugar cane, in different strength and aging …the oldest, Reserva is a premium treat) allowed in my caïpirinha (for my part, I avoid the very common "51" label …a basic tord-boyau for a headache guaranteed !). De Faria's family (João Luiz and Cau and their children, Raul and Ana Luiza), a terezina family of teachers and ingeneers, runs the small Magnifica's local production at Fazenda do Anil, west of RJ state. Here in Santa, an exquisite chapel (a very rare property in that neighborhood) hides near the back door of their house and their garden-parties are always strongly expected. FB Magnifica