An artistic and poetic trail in the city …until Sunday August 28th
Every summer since 2007, Nantes reveals itself through a cultural itinerary and as usual, the 5th edition of Le Voyage looks like a huge playground. Here, art meets landscape as heritage assets and new artworks come together. Though, about 50 thrilling and poetic stops allow everyone to fast-forward centuries of history, to try a sporty hand at a "basketball tree" or a panoramic view at Le Nid roosted on a 32nd floor of a tower and even watch some real fish hanging on a telephone booth.
Watch out ! the green line is around the corner and guides you all along the city, heading from place to place, from cultural spaces to an installation that might leap out at you down some random side street or riverbank between Nantes and Saint-Nazaire.
Parc des Chantiers
Résolution des forces en présence is the title of this huge sculpture of Vincent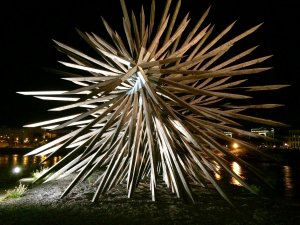 Mauger. It looks like a medieval war machine or a kinetic pine cone that plays with differences in perspective and scale when walking around it. One sure thing, its size and volume make it majestic and just as equally frightening.
Quai des Antilles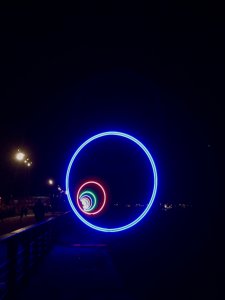 Les anneaux. Daniel Buren and Patrick Bouchain, two of the most famous french visual artist and architect have designed together a serie of 18 rings set along the Loire. At night, the rings light up and reveal the magic of the artwork and another perspective onto the bank, on the way to La Cantine.
La Cantine du Voyage is housed in a collapsible greenhouse and located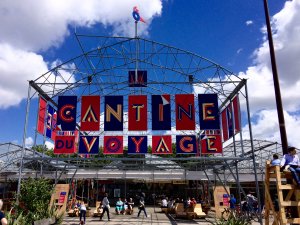 alongside Daniel Buren's Les Anneaux on Île de Nantes. This fun and lively restaurant (created for the 2013 edition of Le Voyage) is now on the menu every summer as dressed up by the Nantes-based collective "Appelle-moi papa". It's a strategic spot with a large restaurant area, a very long bar,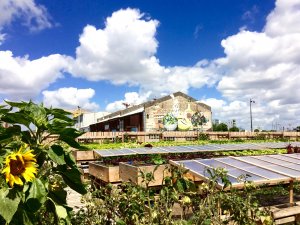 table soccer and its own pétanque pool. By the 2016 edition, an organic vegetable garden is now set next door to La Cantine on 900 sqm. producing tomatoes, basil, radishes, zucchinis, cucumbers, …all treats of the starter salad at La Cantine come from here (you may taste the unique single fixed price menu / 10 € at lunch !).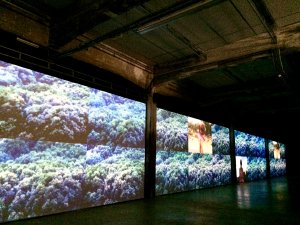 Hangar à Bananes / Hab galerie La mer allée avec le soleil. Famous video artist Ange Leccia's work is a multi-screens in a specially-designed structure. Images are weaving a story of water, storms, reworked TV shots, young faces, nature and memorable pop songs …a introspective exhibition that ends naturally with the sea.
The Machines de l'île. No way to miss the Grand Elephant as it walks along the quays of Loire. Born out the brain and imagination of François Delarozière and Pierre Orefice, the Machines feed on the worlds created by Jules Verne, the mechanical universe of Leonardo da Vinci and naval and industrial history of Nantes. This fantastic living menagerie is housed in the former ship building house yards and around the three former workshop sheds and boiler house.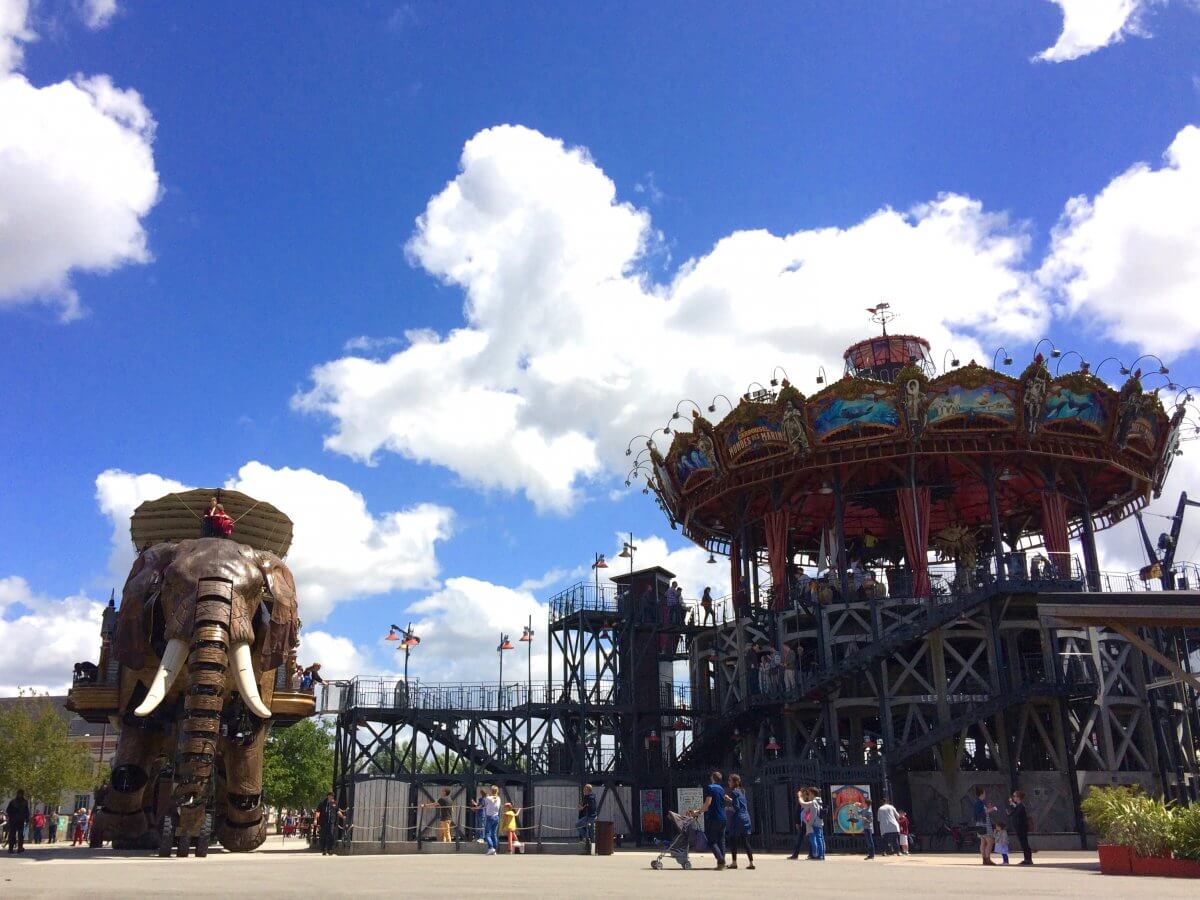 The Gallery is enriched by the productions from the Atelier, a magical wood and steel workshop where everyone can watch the whole creative process. This year, the Atelier has revealed a brand new machine : a giant spider is now stepping out nearby the magnificent Heron Tree, a monumental project taking shape (35m high X 50m large) as two herons are already opening their wings (a couple of visitors can ride them). When totally completed, the birds will fly from branch to branch in an incredible hanging garden. A 20m prototype branch is right now making its way at the entrance  of the workshops while waiting for the final implantation.
Boulevard Léon-Bureau Traverses
This lively and chaotic flow of lines far away from the usaul rectilinar pedestrian passages focuses on the Euclidinian axiom of the shortest distance between two points. But stage director Aurélien Bory in charge of this busy corner, said eventually there is none.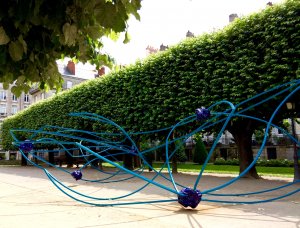 Cours Cambronne Cours à travers
Within the straight perspective of Cours Cambronne, Pierre-Alexandre Remy shakes up the perspective in questioning space, rythm and our own bodies. Movement centered into his sculpture seems to play apart from the ground. Is it a fly run around Cambronne's statue ? Let's say it's smelling much better !
Château des Ducs de Bretagne
Undercurrent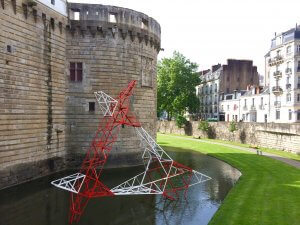 . Collective Hehe (Helen Evans and Heiko Hansen) doesn't shy away from humour when questioning our current use of energy and modes of production. Here, the massive pylone seems to waste time and energy into the narrow basin of the castle moat. Beyond the absurdity of the image, the collective hopes the aesthetic, historical and heritage values upon landmarks over time is a question in itself.
Pledges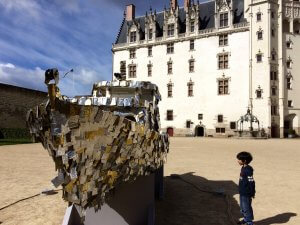 . Echoing the exhibition Icônes, trésors de réfugiés, set in the Château (built in XVth century on the Loire, it was both a residential palace and a military fortress), Kalliopi Lemos is presenting in its courtyard an allegory for a journey filled with hope and the memories of exiled populations. Abandoned after transporting migrants to the Greek islands, this turkish boat is covered in thousands of tamata or handmade votive offerings that are left in Orthodox churches by migrants to overcome the challenges of an uncertain journey awainting them.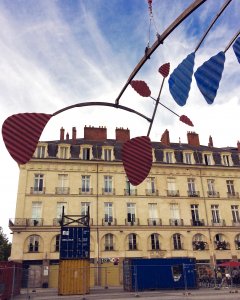 Place du Bouffay Temps étrangers. This year's vast renovation of the tramway system has made a bit tricky to feature an artwork in Place du Bouffay. But Julien Berthier plays constructions as part of the city through an oversize mobile suspended to a crane surrounded with containers. The simple round shapes, primary colors, slight pendulum movements and unstable equilibrium are reminiscent of Calder's own mobiles.
Claude Ponti, the famous illustrator and great children's writer is invited for the fourth summer in a row to give birth to his dreamlike and cute world along the seven hectares of one of a top five botanical garden in France. It looks like a whipped cream cloud is topping his brand new production, isn't it ?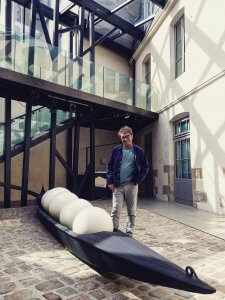 Jean Blaise is involved with cultural programming for over 30 years (among many events around the world, he founded Nuit Blanche in Paris in 2000 and became the director of the "lieu unique" in the ten following years). In Nantes, the amazing city wizard is operating since 1982 and has anchored art in the public spaces. Since 2011, he is the bustling head of Le Voyage. His expertise and vision – recognized beyond the boundaries of Nantes – carry an idea of culture that de-compartmentalises the city. For Le Voyage's 5th edition, I spoted him in Passage Sainte-Croix, Musée Nomade (awaiting the reopening of Musée des Beaux-Arts for next spring 2017) in front of Claudio Parmiggiani's boat which carries seven planets, an invitation to make a cosmic and symbolic trip.
NB : the easiest way to discover Le Voyage à Nantes is buying the Pass Nantes, i.e  1, 2 or 3 days pass (25, 35 or 45 €) that offers access to many sites : from Carrousel des Mondes Marins to the Galerie des Machines de l'île, from Château des Ducs de Bretagne to the famous cultural platform of the 'lieu unique'… local attractions (cruises on the Estuaire, planetarium…) and public transportations (tram, buses…).
On sale at www.nantes-tourisme.com